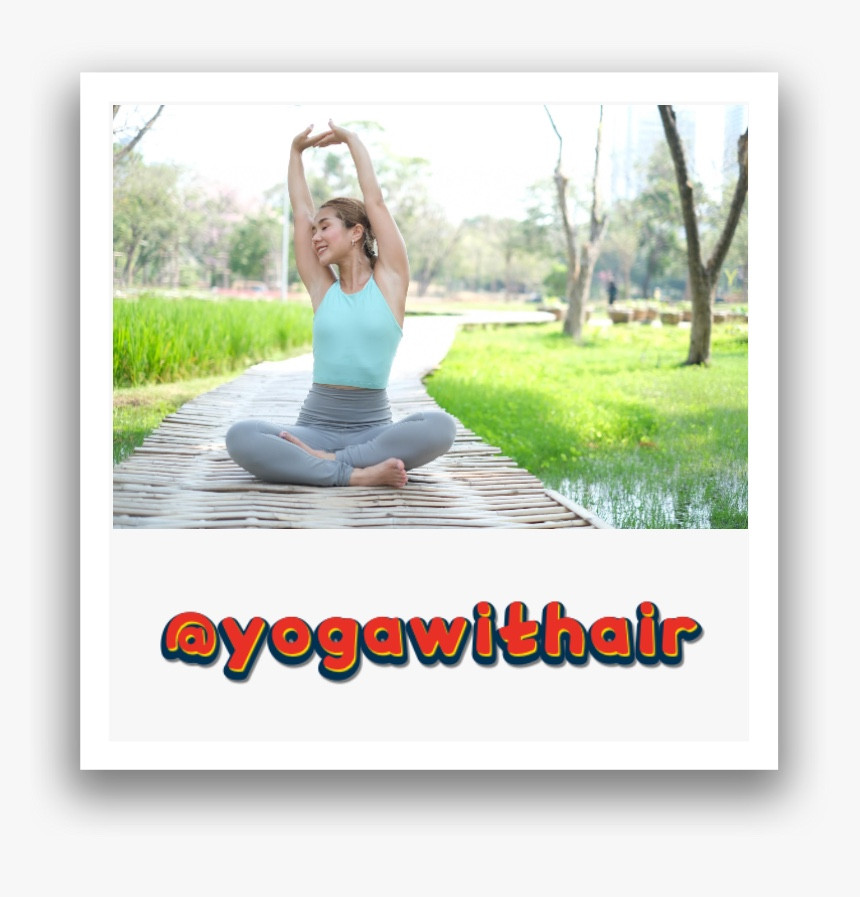 Air, born and raised in Thailand, started her journey with yoga at the age of 26 and going into 8 years to date. Mentally, physically, emotionally & spiritually- Air claims that yoga had turned her life around. Let's see exactly how that's been for her. 
TELL ME, WHAT INSPIRED YOU INTO STARTING YOUR JOURNEY WITH JOGA? 
The reason that I started practicing yoga is because I dealt with excessive stress and it caused me a chronic illness. Since then, I learnt that yoga healed me physically and mentally. The more I practice yoga, the better I discover about myself. Yoga has taught me plentiful. It has shaped me to become a better person. I am healthier because I no longer carry stress for too long in my mind. This is purely from regular yoga practices. Yoga kept me alive again, and I felt like a erborn to connect more with my inner peace and let go of what I can't control from the outside.
PRIOR TO SOCIAL MEDIA, WHERE DID YOU PRACTICE YODGA?
Well, as a practitioner, I enjoy practicing in physical class as I can connect better with teachers and share energy from other yogis. I practice at yoga stuidos in Bangkok and many places across the country and outside the country as well. I am also a self-taught yogi. I watch YouTube sometimes to get inspiration to practice. 
I SEE YOU ALSO HAVE AN ONLINE BUSINESS, TELL ME MORE ABOUT IT. 
I started my online business more seriously since the pandemic. During the pandemic, physical class unfortunately is impossible. Therefore, I had to adapt as fitness and studios were not allowed to open. Zoom is my option. I just go ahead and try! Then, it became an online business through consistency and effort.
I started to teach a Live Zoom class every week, 3-4 times a week. I have provided private; group, and corporate classes in Thailand. This allows me to meet with other business opportunities online such as healthy products reviews, content creator, collaborations and even building my own herbal tea brand with my partner.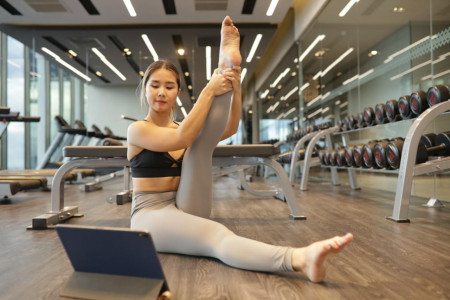 YOU RUN AN INSTAGRAM ACCOUNT, A BLOG AND CLASSES ONLINE, HOW DO YOU JUGGLE BETWEEN ALL? WHAT IS YOUR DAY-TO-DAY ROUTINE LIKE? 
Haha that's a great question. Everything has to be a routine! This was a huge challenge for me as well. My daily update will be on Instagram stories. I post my yoga and lifestyle pictures at least 3 posts per month as I like to control the quality of content. For blogging, it's about twice a month. For classes, I plan each class at least 1 day in advance.
I'd say that my day-to-day routine is pretty busy and I have a clear schedule on what to do ech day. I plan my schedule in advance too. This way, I avoid what I would forget to do an important meetings or 'to-do-list'. In the morning, I meditate, do yoga movements, and some cardio exercise. Then, I will go online and interact quite a bit. Then, I will plan my class, do the work I need to finish either blog, selling my product, writing content, and as such. In the evening on the weekdays, I will teach, and it goes on and about. For the weekend, it will be a bit different, as classes will be in the morning. Before bed, I pray and watch Netflix, or listen to music to unwind before bed. 
INTERESTING! REGARDING YOUR SOCIAL MEDIA, HOW DO YOU CREATE YOUR CONTENT? 
Majority of my content is from my personal experiences and knowledge. Many times, it appears as tips, and mindfulness practice that I learn through time. I think that creating content is about being creative. You have to also read more, listen more, and catch up with social trends. When I lack inspiration, or don't know what to create, I will do nothing, and inspiration will come back! Sometimes I read stuff online, journals, and other Instagrammers are also my inspiration including my students!
WHAT ARE YOUR NEXT STEPS TOWARDS YOUR YOGA JOURNEY?
My yoga journey is something very special. Yoga is my life so it stays with me in my daily life. It will be with me as long as I am able to breathe. Yoga is not only about pose and movements, it is a lifestyle. 
For business' side, I don't really have any solid plan. I focus more on daily achievement, a short-term plan, and consistency. Although, I have a dream to arrange a yoga retreat globally. That would be super interesting to grow the yoga community in the wellness industry.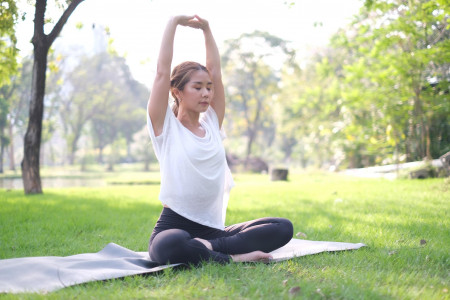 WHAT WOULD YOU SAY IS YOUR GREATEST ACHIEVEMENT SO FAR? 
I would say that my achievement is that this year I have grown so much as a person. I think that I became a better person, a business owner, and yoga teacher. I am happier than before. Before.. I never gave myself credit or compliment myself while I always give compliments to my students. It's too funny that we care about others so much, but we forget about ourselves so much more. This year I have achieved self-improvement. As a yoga teacher, I'm so grateful that I can run my classes and have a job; whether private, group or corporate class during the pandemic. I truly appreciate the online business journey. Online community is more fun and interesting than I ever expected. It keeps surprising me! 
WHAT IS THE BIGGEST STRUGGLE YOU'VE ENCOUNTERED SO FAR THROUGHOUT YOUR JOURNEY?
I think it's about connecting with myself. I can't be a yoga teacher without the love and respect for my job. When I started my career as a yoga teacher in 2018, they pay was absolutely low for many reasons. One of the major reasons was that I didn't value myself well enough and I didn't respect this career enough. I was thinking about competition in the market as I was a newly graduated teacher. Therefore, I struggled for over a year to earn, then it became tiring teaching too much, and getting paid too low, so teaching was just not encouraging and fun anymore. When I did know and realize what my value is, that is why I quit my job as a Digital Marketer in real estate company in 2017 to be a Yoga teacher. 
Things have changed. It's like a wakeup call! I strategized my online business better, taught better, and most importantly, I reconnected with myself to a deeper level more - mindfully and spiritually. It's like me telling myself, 'Hey stop listening to the noises, re-set and let's go!'
HOW HAS THE EXPERIENCE CHANGE YOUR LIFE? 
Yoga has completely changed my life! I have always been saying that to my student. It changed who I used to be; overthinker, stressor, annoyer, drama queen, and egoism. Yoga is an open gate of my spiritual connection. It's changed the way i see the world and beyond that I can explain in a written language. I try to cultivate joy in everything I do, this keeps me alive. I value and respect yoga so much, including yoga teachers out there. We love what we do and that's why we are here!
.
If you're interested in joining Air in the journey of connecting with your true self and finding serenity, you can find her at @yogawithair on Instagram, or www.wholenesswithair.com
Throughout this #ShareYourStory campaign, you can expect to find more stories that'll inspire you, some light-hearted stories and some that are eye opening. As the series goes on, best believe we've got more influencers lined up waiting for you to hear their story. 
Stay tuned! 
If you want your story to be featured next click HERE.