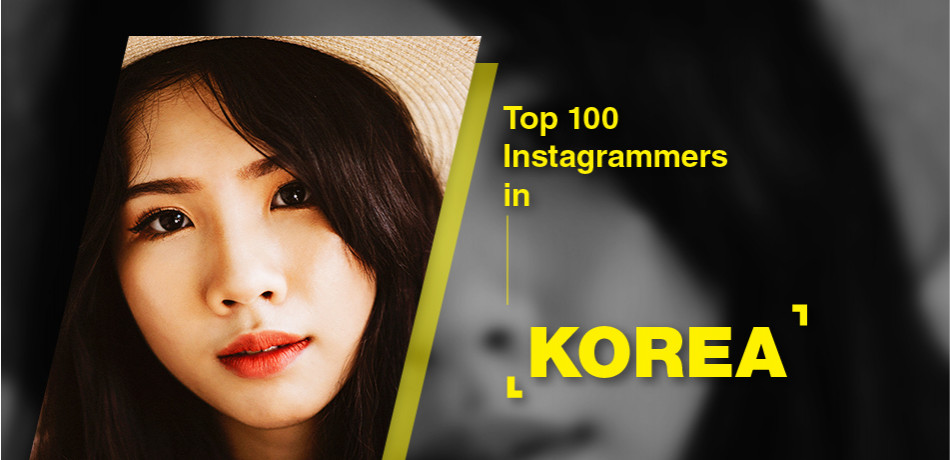 Annyeonghaseyo!
You guys! Numbers don't lie. Look at the sheer number of Instagram users in South Korea! The number 1 Instagram account there has close to 25 million followers, and the follower count only dropped below 1 million from the 77th spot onwards! That's almost unbelievable!
Then again, considering that South Korea is the country with some of the most innovative skincare technologies and outrageous beauty standards in the world, it makes sense that South Koreans are visually motivated by beautiful images put out by their local K-pop idols.
And speaking of K-pop idols, Blackpink and BTS seem to have the top spots in the hearts of their fans right now! Who's surprised?
Don't believe us? Just browse the names of the top 100 Instagram accounts in South Korea, and even if you can't read most of them, you will still get what we mean!
Check out the list below. There's no doubt you will recognise some of them. If you don't know any at all… Well then, we're not sure why you're here.
| | | | | | |
| --- | --- | --- | --- | --- | --- |
| R.         | Instagram Name | Instagram Handle | E. Rate        | Follower Count        | Avg Likes |
| 1 | adidas | @adidas | 0.70% | 24,650,000 | 172,550 |
| 2 | BLΛƆKPIИK | @blackpinkofficial | 6.30% | 21,230,000 | 1,337,490 |
| 3 | BTS official | @bts.bighitofficial | 6.10% | 20,660,000 | 1,260,260 |
| 4 | 권지용 | @xxxibgdrgn | 7.40% | 16,380,000 | 1,212,120 |
| 5 | baekhyunee_exo | @baekhyunee_exo | 10.50% | 15,740,000 | 1,652,700 |
| 6 | TaeYeon | @taeyeon_ss | 3.70% | 13,840,000 | 512,080 |
| 7 | Hyun Ah | @hyunah_aa | 1.60% | 11,720,000 | 187,520 |
| 8 | 이지금 | @dlwlrma | 11.00% | 9,880,000 | 1,086,800 |
| 9 | TAEYANG | @__youngbae__ | 8.60% | 9,780,000 | 841,080 |
| 10 | seungriseyo | @seungriseyo | 6.50% | 8,420,000 | 547,300 |
| 11 | Red Velvet Official | @redvelvet.smtown | 7.00% | 8,310,000 | 581,700 |
| 12 | Sandara Park | @daraxxi | 1.20% | 7,690,000 | 92,280 |
| 13 | PONY 포니 | @ponysmakeup | 1.60% | 6,710,000 | 107,360 |
| 14 | SM Entertainment Group | @smtown | 2.50% | 6,590,000 | 164,750 |
| 15 | NCT 127 Official Instagram | @nct127 | 6.50% | 6,030,000 | 391,950 |
| 16 | SEVENTEEN | @saythename_17 | 6.20% | 5,620,000 | 348,440 |
| 17 | 전소미 | @somsomi0309 | 11.00% | 5,210,000 | 573,100 |
| 18 | Sooyoung Choi | @sooyoungchoi | 2.40% | 5,190,000 | 124,560 |
| 19 | Kim Hee Chul | @kimheenim | 7.70% | 4,740,000 | 364,980 |
| 20 | TOMORROW X TOGETHER OFFICIAL | @txt_bighit | 4.30% | 4,740,000 | 203,820 |
| 21 | Thiago Alcantara | @thiago6 | 2.40% | 4,680,000 | 112,320 |
| 22 | NCT Official Instagram | @nct | 10.00% | 4,670,000 | 467,000 |
| 23 | PLAYERUNKNOWN'S BATTLEGROUNDS | @pubg | 2.70% | 4,510,000 | 121,770 |
| 24 | 디스패치 인스타그램 (official) | @koreadispatch | 3.80% | 3,800,000 | 144,400 |
| 25 | BT21 | @bt21_official | 5.40% | 3,730,000 | 201,420 |
| 26 | 샤이니(SHINee) Official | @shinee | 9.60% | 3,480,000 | 334,080 |
| 27 | (G)I-DLE (여자)아이들 | @official_g_i_dle | 6.80% | 3,400,000 | 231,200 |
| 28 | Dj Soda Official 🇰🇷 | @deejaysoda | 1.90% | 3,360,000 | 63,840 |
| 29 | 지아코 | @woozico0914 | 2.90% | 3,290,000 | 95,410 |
| 30 | 혜리 | @hyeri_0609 | 2.10% | 3,230,000 | 67,830 |
| 31 | ITZY | @itzy.all.in.us | 16.80% | 2,790,000 | 468,720 |
| 32 | NCT DREAM OFFICIAL | @nct_dream | 16.00% | 2,720,000 | 435,200 |
| 33 | 여자친구 GFRIEND | @gfriendofficial | 7.10% | 2,720,000 | 193,120 |
| 34 | KARD | @official_kard | 2.40% | 2,640,000 | 63,360 |
| 35 | 에릭남 Eric Nam | @realericnam | 3.80% | 2,640,000 | 100,320 |
| 36 | 에픽하이 타블로 | Tablo of Epik High | @blobyblo | 1.10% | 2,600,000 | 28,600 |
| 37 | MAMAMOO | @mamamoo_official   | 6.60% | 2,400,000 | 158,400 |
| 38 | BTS WORLD Official | @bts.world.official | 12.10% | 2,340,000 | 283,140 |
| 39 | hongjinyoung 홍진영 | @sambahong | 2.10% | 2,250,000 | 47,250 |
| 40 | 효린 ʜʏᴏʟʏɴ of bridʒ 🇰🇷 | @xhyolynx | 2.10% | 2,140,000 | 44,940 |
| 41 | 강다니엘 Daniel K. | @daniel.k.here | 24.50% | 2,130,000 | 521,850 |
| 42 | 이수현 | @akmu_suhyun | 6.30% | 2,110,000 | 132,930 |
| 43 | 정찬우 | @chan_w000 | 18.30% | 2,040,000 | 373,320 |
| 44 | 송윤형 Smile | @sssong_yh | 18.60% | 2,040,000 | 379,440 |
| 45 | ʜʏᴏⓂ️ɪɴ | @hyominnn | 1.90% | 1,940,000 | 36,860 |
| 46 | KIM JJ 김재중 ジェジュン | @jj_1986_jj | 4.50% | 1,940,000 | 87,300 |
| 47 | marie claire korea | @marieclairekorea   | 0.20% | 1,810,000 | 3,620 |
| 48 | W Korea | @wkorea | 0.30% | 1,770,000 | 5,310 |
| 49 | 🍑권 율이🍑 🇰🇷 | @1004yul_i | 6.80% | 1,710,000 | 116,280 |
| 50 | ELLE KOREA 엘르 | @ellekorea | 0.40% | 1,680,000 | 6,720 |
| 51 | Luna 루나 | @hermosavidaluna  | 2.10% | 1,630,000 | 34,230 |
| 52 | 나하은 (Na Haeun) | @awesomehaeun | 1.70% | 1,620,000 | 27,540 |
| 53 | Singles 싱글즈 | @singlesmagazine  | 0.30% | 1,500,000 | 4,500 |
| 54 | 스타일난다 STYLENANDA | @stylenanda_korea  | 0.40% | 1,380,000 | 5,520 |
| 55 | 헤이즈 .. 다혜.🌻 | @heizeheize | 6.50% | 1,330,000 | 86,450 |
| 56 | EXID (이엑스아이디) | @exidofficial | 1.80% | 1,290,000 | 23,220 |
| 57 | CLARA 클라라 | @actressclara | 0.30% | 1,280,000 | 3,840 |
| 58 | 김재환(KIM JAEHWAN) | @kjh_official | 20.80% | 1,250,000 | 260,000 |
| 59 | RAIN♥ | @rain_oppa | 4.90% | 1,210,000 | 59,290 |
| 60 | AB6IX(에이비식스) | @ab6ix_official | 8.90% | 1,210,000 | 107,690 |
| 61 | 쿠캣코리아 | @cookat_korea | 0.90% | 1,210,000 | 10,890 |
| 62 | COSMOPOLITAN KOREA 코스모폴리탄 | @cosmopolitankorea     | 0.40% | 1,200,000 | 4,800 |
| 63 | 펜타곤 PENTAGON | @cube_ptg | 6.90% | 1,180,000 | 81,420 |
| 64 | Kim Jung Gi US | @kimjunggius | 1.60% | 1,170,000 | 18,720 |
| 65 | Hea Lini Seo_exid | @hyeliniseo | 3.30% | 1,160,000 | 38,280 |
| 66 | VIXX OFFICIAL | @vixx_stargram | 4.20% | 1,150,000 | 48,300 |
| 67 | Breanna Youn 윤이영 🇵🇭🇰🇷 | @officialbreannayoun | 0.50% | 1,150,000 | 5,750 |
| 68 | STATION | @smtownstation | 5.80% | 1,140,000 | 66,120 |
| 69 | 1MILLION DANCE STUDIO | @1milliondance | 1.80% | 1,130,000 | 20,340 |
| 70 | 더보이즈(THE BOYZ) | @official_theboyz | 6.70% | 1,120,000 | 75,040 |
| 71 | 이국주 | @gookju | 0.60% | 1,110,000 | 6,660 |
| 72 | 브이티 코스메틱 VT COSMETICS OFFICIAL        | @vtcosmetics_official  | 1.70% | 1,070,000 | 18,190 |
| 73 | 만개의레시피 | @10000recipe | 0.40% | 1,050,000 | 4,200 |
| 74 | CHO KyuHyun | @gyuram88 | 27.60% | 1,030,000 | 284,280 |
| 75 | Harper's BAZAAR Korea 하퍼스 바자 | @harpersbazaarkorea           | 1.20% | 1,030,000 | 12,360 |
| 76 | PSY | @42psy42 | 2.90% | 1,010,000 | 29,290 |
| 77 | 여행에미치다 | @travelholic_insta | 0.80% | 978,930 | 7,831 |
| 78 | Chailee Son 손채리 | @chaileeson | 2.10% | 977,660 | 20,531 |
| 79 | 임성빈 | @realisshoman | 4.50% | 938,990 | 42,255 |
| 80 | Lia Kim | @liakimhappy | 2.20% | 914,430 | 20,117 |
| 81 | 문재인 | @moonjaein | 10.70% | 913,070 | 97,698 |
| 82 | May J Lee '메이제이 리' 이지현 | @mayj517 | 4.30% | 911,460 | 39,193 |
| 83 | 인절미 injeolmi🎗 | @zzangjeolmi | 7.10% | 902,200 | 64,056 |
| 84 | gugudan(구구단) | @gu9udan | 2.20% | 891,800 | 19,620 |
| 85 | Mina Myoung 명미나 | @minamyoung | 2.80% | 874,390 | 24,483 |
| 86 | Allure Magazine Korea_얼루어코리아 | @allurekorea | 0.10% | 856,930 | 857 |
| 87 | BANG YONGGUK BANG YONGGUK | @bangstergram | 7.90% | 846,230 | 66,852 |
| 88 | innisfree official (이니스프리) | @innisfreeofficial | 0.40% | 838,550 | 3,354 |
| 89 | HOLLAND | @holland_vvv | 5.70% | 829,350 | 47,273 |
| 90 | CLC 씨엘씨 | @cube_clc_official | 6.90% | 816,770 | 56,357 |
| 91 | 유세윤 | @kkachi99 | 2.80% | 787,510 | 22,050 |
| 92 | 크롭 | @cr5p__br | 1.70% | 759,740 | 12,916 |
| 93 | ᴴᴬᴴᴹ ᴱᵁᴺ ᴶᵁᴺᴳ | @eunjung.hahm | 1.60% | 756,760 | 12,108 |
| 94 | Big Marvel | @lilmarvel0 | 21.90% | 748,650 | 163,954 |
| 95 | GQ KOREA | @gq_korea | 0.10% | 745,110 | 745 |
| 96 | Official LOOΠΔ Instagram | @loonatheworld | 5.80% | 743,420 | 43,118 |
| 97 | 홍영기동이✨ | @kisy0729 | 0.90% | 742,250 | 6,680 |
| 98 | 김빛나라 | @bitnara1105 | 2.10% | 734,370 | 15,422 |
| 99 | ESteem official | @esteem.official | 0.30% | 1,000,000 | 3,000 |
| 100 | " 메이크업아티스트 이사배 " | @risabae_art | 1.60% | 1,000,000 | 16,000 |
R. = Ranking
E. Rate = Engagement Rate
Avg. Likes = Average Likes