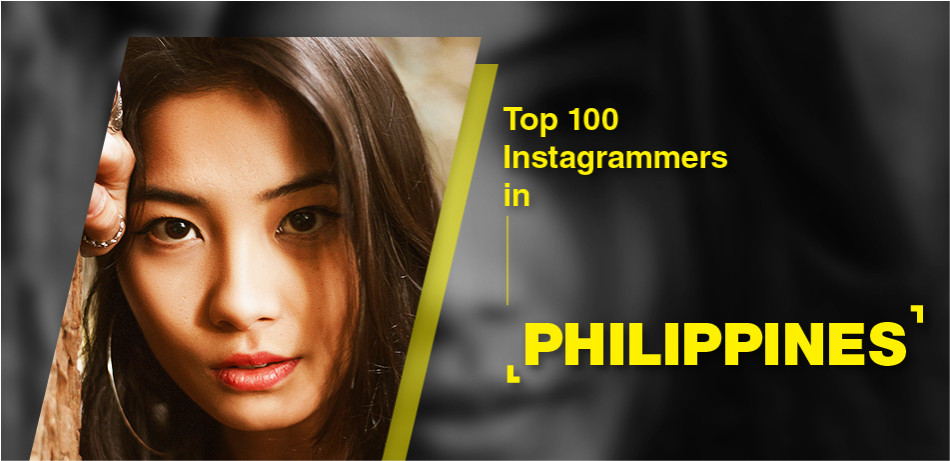 Did you know?
The Philippines is made up of 7,641 islands! Bet you didn't.
If you love beaches, then you would have heard of the infamous Boracay Island. You might have even visited the island, and returned home dreaming of the day you will feel the soft sand between your toes once again. If you haven't seen it, try Googling "Boracay Island" and tell us you wouldn't want to be there one day.
In fact, just look up images of the Philippines, and you will find images upon images of white sandy beaches and green landscapes for your eyes to savour before adding this beautiful country to your travel bucket list. Imagine the endless possibilities of island-hopping adventures with over 7,000 islands to choose from… Now that's what dreams are made of.
Of course, here at Komaci, we love beautiful people more than beautiful beaches, so here's a list of the top 100 Instagram accounts in the Philippines, along with their engagement rates, follower counts, and average likes.
| | | | | | |
| --- | --- | --- | --- | --- | --- |
| R.      | Instagram Name |  Instagram Handle  | E. Rate          | Follower Count       | Avg. Likes |
| 1 | Selena Gomez | @selenagomez | 2.60% | 157,320,000 | 4,090,320 |
| 2 | Alex Gonzaga | @cathygonzaga | 1.30% | 7,400,000 | 96,200 |
| 3 | Niana | @nianaguerrero | 5.70% | 7,380,000 | 420,660 |
| 4 | Catriona Gray | @catriona_gray | 2.70% | 6,840,000 | 184,680 |
| 5 | Yassi Pressman | @yassipressman | 1.10% | 6,740,000 | 74,140 |
| 6 | James Reid | @james | 2.50% | 5,430,000 | 135,750 |
| 7 | Celestine Gonzaga-Soriano | @celestinegonzaga | 2.60% | 5,250,000 | 136,500 |
| 8 | Jessy Mendiola | @senorita_jessy | 0.30% | 5,170,000 | 15,510 |
| 9 | Kris Aquino | @krisaquino | 0.70% | 4,500,000 | 31,500 |
| 10 | Heart Evangelista | @iamhearte | 1.00% | 4,280,000 | 42,800 |
| 11 | 𝚎𝚕𝚕𝚊. 🍭 | @ellacruz | 1.30% | 4,230,000 | 54,990 |
| 12 | Maris Racal | @mariesteller | 1.00% | 4,090,000 | 40,900 |
| 13 | Ranz Kyle | @ranzkyle | 5.60% | 3,810,000 | 213,360 |
| 14 | Maine Mendoza | @mainedcm | 6.10% | 3,360,000 | 204,960 |
| 15 | ylona. | @ylonagarcia | 2.00% | 3,140,000 | 62,800 |
| 16 | Jennylyn Mercado | @mercadojenny | 1.00% | 3,130,000 | 31,300 |
| 17 | Erwan Heussaff | @erwan | 0.90% | 3,120,000 | 28,080 |
| 18 | isabelledaza | @isabelledaza | 0.90% | 2,920,000 | 26,280 |
| 19 | Chesca Garcia Kramer | @chekakramer | 0.80% | 2,820,000 | 22,560 |
| 20 | Kyline Alcantara | @itskylinealcantara | 2.00% | 2,810,000 | 56,200 |
| 21 | Star Magic | @starmagicphils | 0.40% | 2,660,000 | 10,640 |
| 22 | Robi Domingo | @iamrobidomingo | 1.10% | 2,630,000 | 28,930 |
| 23 | The Globe Wanderer | @theglobewanderer | 0.70% | 2,580,000 | 18,060 |
| 24 | KARLA ESTRADA | @karlaestrada1121 | 0.80% | 2,570,000 | 20,560 |
| 25 | kylienicolepadilla | @kylienicolepadilla | 0.90% | 2,520,000 | 22,680 |
| 26 | Eat Bulaga | @eatbulaga1979 | 0.20% | 2,260,000 | 4,520 |
| 27 | kristelfulgar | @kristelfulgar | 3.50% | 2,050,000 | 71,750 |
| 28 | Andi Eigenmann | @andieigengirl | 4.30% | 2,030,000 | 87,290 |
| 29 | mariko nicolette 👽 | @mikadlacruz | 1.90% | 1,980,000 | 37,620 |
| 30 | Heaven Lyan Salvador Peralejo | @heavenperalejo | 1.40% | 1,970,000 | 27,580 |
| 31 | teejaymarquez | @teejaymarquez | 0.60% | 1,920,000 | 11,520 |
| 32 | 이승훈 | @maetamong | 8.00% | 1,820,000 | 145,600 |
| 33 | Alexa Ilacad | @alexailacad | 2.50% | 1,810,000 | 45,250 |
| 34 | JaMill | @jamillph | 6.70% | 1,640,000 | 109,880 |
| 35 | Donnalyn Bartolome🇵🇭 | @donnalynbartolome           | 1.70% | 1,520,000 | 25,840 |
| 36 | Kris Bernal | @krisbernal | 1.30% | 1,430,000 | 18,590 |
| 37 | Angeline Quinto | @loveangelinequinto | 1.00% | 1,360,000 | 13,600 |
| 38 | Xian Lim | @xianlimm | 2.10% | 1,330,000 | 27,930 |
| 39 | gmanetwork | @gmanetwork | 0.30% | 1,300,000 | 3,900 |
| 40 | Piolo Jose Pascual | @piolo_pascual | 0.50% | 1,290,000 | 6,450 |
| 41 | ABS-CBN News | @abscbnnews | 0.05% | 1,290,000 | 645 |
| 42 | 🌺JANINE | @janinegutierrez | 3.30% | 1,270,000 | 41,910 |
| 43 | Bea Binene | @beabinene | 1.30% | 1,260,000 | 16,380 |
| 44 | MELASON | @mrandmrsfrancisco | 1.20% | 1,210,000 | 14,520 |
| 45 | ABS-CBN Films, Star Cinema | @starcinema | 0.40% | 1,110,000 | 4,440 |
| 46 | GMA News | @gmanews | 0.20% | 1,100,000 | 2,200 |
| 47 | Kenneth | @kensanjose | 4.40% | 1,020,000 | 44,880 |
| 48 | Lloyd Cafe Cadena | @lloydcafecadena | 1.80% | 1,010,000 | 18,180 |
| 49 | Rufa Mae Quinto Magallanes | @rufamaequinto | 0.50% | 1,000,000 | 5,000 |
| 50 | pbbabscbntv | @pbbabscbntv | 2.10% | 996,140 | 20,919 |
| 51 | Sarah Geronimo | @justsarahgph | 1.80% | 979,670 | 17,634 |
| 52 | 라이언 방 | @ryanbang | 1.20% | 978,190 | 11,738 |
| 53 | Jelai Andres | @jelaiandresofficial | 1.90% | 922,410 | 17,526 |
| 54 | Penshoppe | @penshoppe | 0.30% | 884,180 | 2,653 |
| 55 | M O R I S S E T T E | @itsmorissette | 1.10% | 877,440 | 9,652 |
| 56 | Melissa Ricks | @mellyricks09 | 0.60% | 832,580 | 4,995 |
| 57 | Mrs.Peralejo-Bonifacio | @ricaperalejo | 0.40% | 819,280 | 3,277 |
| 58 | Amy Perez Castillo🌻 | @amypcastillo | 0.30% | 815,260 | 2,446 |
| 59 | Marcelo Santos III | @akoposimarcelo | 0.40% | 789,810 | 3,159 |
| 60 | Rei Germar | @reigermar | 9.90% | 757,410 | 74,984 |
| 61 | Pamela Swing | @phamswing | 6.70% | 756,150 | 50,662 |
| 62 | André | @andrebrouillette | 6.90% | 742,210 | 51,212 |
| 63 | Wil Dasovich | @wil_dasovich | 1.70% | 727,680 | 12,371 |
| 64 | Natalia Guerrero | @onewithnatalia | 15.60% | 718,000 | 112,008 |
| 65 | KZ | @kztandingan | 1.30% | 716,620 | 9,316 |
| 66 | Dani Barretto-Panlilio | @danibarretto | 6.60% | 663,940 | 43,820 |
| 67 | Andi Manzano Reyes | @andimanzano | 2.70% | 636,990 | 17,199 |
| 68 | RIVA QUENERY | @riva | 3.90% | 603,590 | 23,540 |
| 69 | benchtm | @benchtm | 0.90% | 595,800 | 5,362 |
| 70 | Meg | @megimperial | 1.10% | 580,090 | 6,381 |
| 71 | FHM Philippines | @fhmphilofficial | 1.10% | 578,880 | 6,368 |
| 72 | Raffy Tulfo | @raffytulfoinaction | 2.50% | 560,180 | 14,005 |
| 73 | james alexander diaz mcdermott            | @alexandermcdizz | 0.90% | 554,240 | 4,988 |
| 74 | Kimpoy Feliciano | @kimpoyfeliciano | 2.90% | 541,900 | 15,715 |
| 75 | Camille Co - Koro | @itscamilleco | 1.70% | 529,650 | 9,004 |
| 76 | Joyce Pring | @joycepring | 1.50% | 526,540 | 7,898 |
| 77 | Michael Pangilinan | @khel.pangilinan | 4.30% | 520,350 | 22,375 |
| 78 | MYX | @myxph | 0.30% | 510,980 | 1,533 |
| 79 | Myrtle Sarrosa | @myrtlegail | 1.50% | 510,790 | 7,662 |
| 80 | Fifth Solomon Pagotan | @fifthsolomon | 0.50% | 480,500 | 2,403 |
| 81 | Angel Dei ♡ | @_angeldei | 7.00% | 471,620 | 33,013 |
| 82 | Yong P. Muhaji | @iamyongmuhajil | 1.90% | 469,590 | 8,922 |
| 83 | j.throne | @juliantrono | 2.70% | 454,940 | 12,283 |
| 84 | Anne Clutz | @anneclutz | 6.40% | 453,480 | 29,023 |
| 85 | Push | @pushalerts | 0.10% | 427,430 | 427 |
| 86 | Vice Cosmetics | @vicecosmeticsph | 0.60% | 419,040 | 2,514 |
| 87 | THATSBELLA | @thatsbellayt | 7.30% | 395,720 | 28,888 |
| 88 | Kyo Quijano | @kyoquijano | 9.70% | 376,200 | 36,491 |
| 89 | Coraleen Waddell | @coraleenwaddell | 3.00% | 372,710 | 11,181 |
| 90 | Daryl Ong | @imdarylong | 0.90% | 370,270 | 3,332 |
| 91 | Shopee Philippines | @shopee_ph | 0.10% | 354,080 | 354 |
| 92 | Mark Reyes Mark Reyes | @itsmarkreyes25 | 11.60% | 351,650 | 40,791 |
| 93 | BANINAY | @baninaybautista | 4.70% | 351,210 | 16,507 |
| 94 | Belo Medical Group | @belobeauty | 1.80% | 342,280 | 6,161 |
| 95 | Philippine Basketball Asscn | @pbaconnect | 0.20% | 338,250 | 677 |
| 96 | Rappler | @rappler | 0.03% | 336,170 | 101 |
| 97 | Angelie Reposposa Angelie | @itsmeangelieofc | 5.60% | 332,460 | 18,618 |
| 98 | TJ Monterde | @tjmusicmonterde | 1.30% | 329,770 | 4,287 |
| 99 | Ever Bilena Cosmetics | @everbilenaofficial | 0.50% | 327,070 | 1,635 |
| 100 | Jerald Napoles | @iamjnapoles | 0.90% | 324,990 | 2,925 |
R. = Ranking
E. Rates = Engagement Rates
Avg. Likes = Average Likes