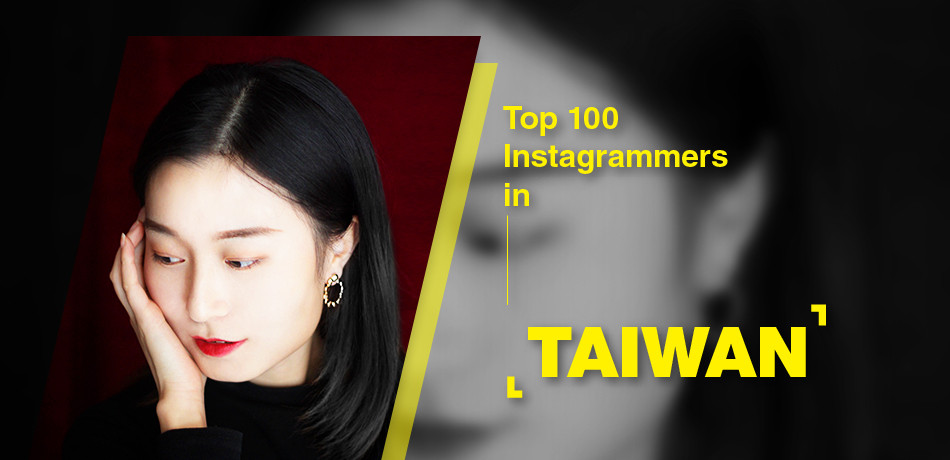 What do you love about Taiwan?
Besides the breath-taking East Asian landscapes and the local street foods and night markets, the people of Taiwan are said to be incredibly friendly and hospitable towards tourists. Although they are shy about speaking English, tourists from around the world can get by just fine as the locals are super helpful. One of us here at Komaci had met a local who actually doubled back just to make sure she's not lost, and another who gave her tickets to a travel convention just because they had lunch together!
On top of that, getting around is cheap and convenient via buses and trains, and accommodation is clean and usually quite affordable. No wonder travel bloggers often tout it as their top travel destination!
Of course, we here at Komaci love snooping around Instagram accounts, and we've rounded up the top 100 Instagram accounts in Taiwan! Although the Taiwanese don't seem as active on Instagram as the South Koreans, we're sure you'll still recognise some of the top names! Check them out below along with their engagement rates, follower counts, and average likes per post!
| | | | | | |
| --- | --- | --- | --- | --- | --- |
| R.        | Instagram name |  Instagram Handle | E. Rate         | Follower Count        | Avg. Likes |
| 1 | TWICE == | @twicetagram | 7.80% | 10,470,000 | 816,660 |
| 2 | G.E.M.鄧紫棋 = | @gem0816 | 4.20% | 5,770,000 | 242,340 |
| 3 | Nana = | @nanaouyang | 5.00% | 2,720,000 | 136,000 |
| 4 | ROG Global == | @asusrog | 1.20% | 1,360,000 | 16,320 |
| 5 | 那些電影教我的事 | @lessonsfrommovies           | 1.60% | 1,350,000 | 21,600 |
| 6 | MSI Gaming | @msigaming | 0.80% | 1,310,000 | 10,480 |
| 7 | 王力宏 Wang Leehom | @wangleehom | 1.70% | 1,300,000 | 22,100 |
| 8 | 蔡阿嘎 | @yga0721 | 1.80% | 1,270,000 | 22,860 |
| 9 | Butterfly愷樂🦋 | @butterfly092288 | 1.60% | 1,150,000 | 18,400 |
| 10 | 陳立農 | @n30201 | 11.00% | 1,100,000 | 121,000 |
| 11 | 阿滴英文 | @rayduenglish | 3.30% | 1,060,000 | 34,980 |
| 12 | 蕭敬騰 Jam Hsiao & LION | @jam_hsiao0330 | 3.30% | 999,030 | 32,968 |
| 13 | 白癡公主 | @87acup | 5.10% | 990,770 | 50,529 |
| 14 | 柯文哲 Ko Wen-Je | @doctorkowj | 4.90% | 972,310 | 47,643 |
| 15 | 歐陽妮妮🦄 | @niniouyang | 2.80% | 945,770 | 26,482 |
| 16 | 蔡桃貴 | @tsaigray2018 | 14.10% | 934,470 | 131,760 |
| 17 | Hebe Tien | @hebe_tien_0330 | 7.30% | 862,250 | 62,944 |
| 18 | Cooler Master | @coolermaster | 1.70% | 855,220 | 14,539 |
| 19 | Eric Chou 周興哲 | @ericchou0622 | 6.40% | 790,530 | 50,594 |
| 20 | 瑀熙Yuci | @uccu0323 | 2.40% | 741,230 | 17,790 |
| 21 | 這群人 TGOP | @thisgroupofpeople | 2.50% | 718,730 | 17,968 |
| 22 | Harry Lu | @harrylu92 | 1.60% | 716,700 | 11,467 |
| 23 | 周湯豪 NICKTHE®EAL | @nickthereal4sho | 4.50% | 711,630 | 32,023 |
| 24 | 滴妹 | @crown_du | 6.90% | 695,040 | 47,958 |
| 25 | 那對夫妻Nico&Kim | @1006nk | 3.30% | 655,500 | 21,632 |
| 26 | Misa米砂 | @misa72600 | 3.30% | 654,070 | 21,584 |
| 27 | 雞排妹 イリー 鄭家純 | @ili.cheng | 0.50% | 650,450 | 3,252 |
| 28 | 台灣達人秀 | @ttshow.tw | 1.30% | 638,740 | 8,304 |
| 29 | 吳青峰 | @imqingfeng | 4.10% | 617,730 | 25,327 |
| 30 | 游否希 | @liu8g | 2.20% | 594,440 | 13,078 |
| 31 | 許薇安Vivi Hsu | @vivihsu0317 | 0.90% | 580,110 | 5,221 |
| 32 | Evelyn Chen 理科太太 | @liketaitai | 5.00% | 577,440 | 28,872 |
| 33 | 莫莉 Molly Chiang | @molly_chiang | 1.90% | 574,790 | 10,921 |
| 34 | 鬼鬼吳映潔 GEMMA 오영결 | @gemma_811 | 1.10% | 555,300 | 6,108 |
| 35 | 鄭茵聲 Alina Zheng | @ferrtsss | 2.20% | 544,040 | 11,969 |
| 36 | 解婕翎J0 | @dollshin | 2.00% | 537,220 | 10,744 |
| 37 | Janet Hsieh | @janetagram | 2.40% | 533,890 | 12,813 |
| 38 | 許凱皓 | @lockingjack | 3.10% | 532,380 | 16,504 |
| 39 | 綜藝玩很大MR.PLAYER | @mr.player.tw | 5.80% | 531,670 | 30,837 |
| 40 | 佩諭🌼 | @bo522 | 5.60% | 525,790 | 29,444 |
| 41 | 球球 MiKa | @newmika0529 | 3.10% | 524,230 | 16,251 |
| 42 | ✨🌈江佑️️(Alva)👾✨ | @empty_1207 | 7.20% | 493,090 | 35,502 |
| 43 | Tia Lee | @leeyufen | 2.80% | 474,160 | 13,276 |
| 44 | 小樂 吳思賢/Ben S. Wooooo | @benwooooo | 6.20% | 462,410 | 28,669 |
| 45 | 水之GINA | @ginachiki | 3.40% | 461,600 | 15,694 |
| 46 | XinYa An | @amberber_an | 2.80% | 439,410 | 12,303 |
| 47 | 祈錦鈅 鈅兒❤︎🄼🄰🅇🄸🄽🄴🄲🄷🄸❤︎ | @maxinechiii | 2.10% | 439,140 | 9,222 |
| 48 | The Twins Chelsea & Jesper | @chelsea_jesper | 1.50% | 431,730 | 6,476 |
| 49 | 放火Louis | @louislyc0602 | 6.30% | 429,490 | 27,058 |
| 50 | HowHow | @howhowhasfriends | 7.40% | 423,680 | 31,352 |
| 51 | 安啾 Anjou🍹 | @anjouclever | 7.50% | 415,300 | 31,148 |
| 52 | 王心凌 Cyndi Wang | @cyndiloves2sing | 2.70% | 413,360 | 11,161 |
| 53 | Melody殷悅 | @melodykliu | 1.60% | 410,090 | 6,561 |
| 54 | 千千 | @khshu_ | 8.30% | 395,970 | 32,866 |
| 55 | JKF | @jkftaipei | 1.10% | 392,880 | 4,322 |
| 56 | Hello Catie | @hellocatie45 | 4.10% | 384,630 | 15,770 |
| 57 | yuyu | @wenyu1025 | 3.90% | 379,420 | 14,797 |
| 58 | Joeman九妹 | @joemanweng | 8.30% | 372,370 | 30,907 |
| 59 | Andy老師 | @andy1994x | 6.00% | 361,610 | 21,697 |
| 60 | 蔡英文 | @tsai_ingwen | 6.40% | 348,420 | 22,299 |
| 61 | PopDaily 波波黛莉的異想世界 | @popdaily | 0.30% | 347,580 | 1,043 |
| 62 | 聖結石Saint | @qoop1113 | 3.60% | 338,020 | 12,169 |
| 63 | 古娃娃 | @wawawaku | 5.50% | 327,760 | 18,027 |
| 64 | 凱琪 K7 | @k7_aphrolin | 8.80% | 325,800 | 28,670 |
| 65 | 鍾明軒 | @big_star_ken | 17.00% | 318,130 | 54,082 |
| 66 | 張立昂 Marcus C | @marcourageous | 6.80% | 306,170 | 20,820 |
| 67 | 聖嫂嘟嘟😍 | @natalie83917 | 7.00% | 305,330 | 21,373 |
| 68 | 妮妮子🐻 | @__tingwong | 5.30% | 298,830 | 15,838 |
| 69 | Jane Zhang | @janezhang | 2.40% | 297,010 | 7,128 |
| 70 | ⚜️Hải Anh Owl ink Studio⚜️ | @haianhtattoo | 2.90% | 294,880 | 8,552 |
| 71 | Jenny 成語蕎 ジェニー | @imjennycheng | 1.90% | 288,490 | 5,481 |
| 72 | 啾啾妹 by LIIN | @chuchumei__ | 4.20% | 286,980 | 12,053 |
| 73 | 麻糬爸 | @mochi_dad | 4.50% | 284,540 | 12,804 |
| 74 | Vogue Taiwan | @voguetaiwan | 0.70% | 267,960 | 1,876 |
| 75 | 豆花妹 蔡黃汝 | @fafa19871115 | 3.40% | 260,690 | 8,863 |
| 76 | Charlene Liu 查理 | @coindevanity | 4.50% | 259,440 | 11,675 |
| 77 | 呱吉 | @froggychiu | 7.60% | 259,110 | 19,692 |
| 78 | 含羞草 | @xiucao.han | 5.40% | 256,220 | 13,836 |
| 79 | 黃大謙 | @da_chien_huang | 13.50% | 250,870 | 33,867 |
| 80 | 人生肥宅x尊 | @loserzun | 12.50% | 249,360 | 31,170 |
| 81 | 林逸欣 Shara | @sharalinmusic | 4.20% | 247,540 | 10,397 |
| 82 | 小玉 | @yu84621 | 9.70% | 246,390 | 23,900 |
| 83 | 林萱 SHIUAN | @1_shiuan_0 | 5.00% | 246,090 | 12,305 |
| 84 | 哲哲 | @huang45490 | 7.80% | 241,940 | 18,871 |
| 85 | Julia Wu 吳卓源 | @juliawu94 | 10.10% | 241,640 | 24,406 |
| 86 | 國家地理雜誌 National Geographic          | @natgeo.media | 1.10% | 241,350 | 2,655 |
| 87 | 宛宛兒 | @wan_wan_720 | 2.40% | 240,770 | 5,778 |
| 88 | 魏如萱 waa wei | @waawei | 3.60% | 236,650 | 8,519 |
| 89 | 蛋哥超有事EggThings | @egg_things | 5.40% | 231,270 | 12,489 |
| 90 | 洗菜⛹🏻‍♀️ | @jumi0118 | 5.90% | 229,430 | 13,536 |
| 91 | 唐綺陽 Jesse Tang | @jessetang11 | 4.50% | 222,800 | 10,026 |
| 92 | 木曜4超玩 | @muyao4 | 9.70% | 218,980 | 21,241 |
| 93 | Elle Taiwan | @elletaiwan | 0.70% | 216,930 | 1,519 |
| 94 | 唐婷婷Iggy | @tangting_0927 | 3.00% | 214,190 | 6,426 |
| 95 | Jay Chang | @jaychang0127 | 6.70% | 211,380 | 14,162 |
| 96 | 蛋捲 | @eggroll0616 | 5.00% | 209,720 | 10,486 |
| 97 | Jasper 星培 | @cba024538 | 5.50% | 209,390 | 11,516 |
| 98 | 星光奈奈 | @5inana | 7.80% | 208,960 | 16,299 |
| 99 | 智希Simba🐒🗿 | @simba.1220 | 3.20% | 207,820 | 6,650 |
| 100 | 欸你這週要幹嘛 | @arielsvlog_816 | 16.70% | 202,860 | 33,878 |
R. = Ranking
E. Rate = Engagement Rate
Avg. Likes = Average Likes